What's Inside...

Worldwide Terrorism

What is Genocide?

Infamous War Crimes

The Patriot Act

FBI Most Wanted

Pre 9-1-1 Intelligence

Clinton Administration Ignored Policy Recommendations

9-1-1 Terrorist Attacks

Bush Speech

On Terrorism following 9-1-1

Usama Bin Laden

Why America is at War!

Bush Speech

To the UN following 9-1-1

From Ground Zero

Bill Williams/Volunteer Chaplin

Terrorist Groups Worldwide

The Butcher of Bagdad

Saddam Hussein

Milosevic & Company

Iraqi Criminal Leadership

Milosevic Indictment for Genocide

Domestic Terrorism

North Korea's Strategy

Axis of Evil: Rogue Nations

Charity Links to Terror

Bush Speech:

Department of Homeland Security

Louis Farrakhan

Leader of The Nation of Islam

Vets Against John Kerry

Terrorist News

Nanking China...

The Fogotten Holocaust

Italian Atrocities during World War II

Experiments by the Japanese

American POW's used in Germ Warfare

The Holocaust

50 Years on the Run:

Nazi finally dies without Justice...

8 November '01

Japanese and German Development of the 'A' Bomb

Pearl Harbor Rememberance

Congressional Investigation of Pearl Harbor

Rainbow Five

The Once Secret Us Plans for

War with Japan 1941

VC Massacre at Hue

US My Lai Massacre

Cuba and Terrorism

1959-2001

N
Definition of International Terrorism:

"The only thing we have to fear; is fear itself..."

- Sir Winston Churchill; World War II

Terrorism:
"All terrorist acts are crimes. Many would also be violations of the rules of war, if a state of war existed. All involve violence or the threat of violence, often coupled with specific demands. The targets are mainly civilians. The motives are political. The actions generally are designed to achieve maximum publicity. The perpetrators are usually members of an organized group, and unlike other criminals, they often claim credit for the act.(This is a true hallmark of terrorism.) And, finally, it is intrinsic to a terrorist act that it is usually intended to produce psychological effects far beyond the immediate physical damage. One persons terrorist is everyone's terrorist."
- Bryan Jenkins
Definition:
War Crimes Against Civilian Populations
Article 146 of the Fourth Geneva Convention of 1949 on the Protection of Civilian
Persons in Time of War requires the parties to enact legislation to provide effective penal sanctions for those committing or ordering to commit "grave breaches" of the Convention; and to search for such persons and to bring them to trial.
Article 147 states that grave breaches are the following acts committed against protected persons and property:
"...willful killing, torture or inhumane treatment, including biological experiments, willfully causing great suffering or serious injury to body or health, unlawful deportation or transfer or unlawful confinement of a protected person, compelling a protected person to serve in forces of a
hostile Power, or willfully depriving a protected person of the rights of fair and regular trial prescribed in the present Convention, taking of hostages and extensive destruction and appropriation of property, not justified by military necessity and carried out unlawfully and wantonly..."
N
Wanted Dead or Alive!
Usama Bin Laden
$25 Million Dollar Reward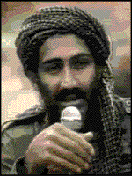 MURDER OF U.S. NATIONALS OUTSIDE THE UNITED STATES; CONSPIRACY TO MURDER U.S. NATIONALS OUTSIDE THE UNITED STATES;
ATTACK ON A FEDERAL FACILITY
RESULTING IN DEATH
N
Aliases: Usama Bin Muhammad Bin Ladin, Shaykh Usama Bin Ladin, the Prince, the Emir, Abu Abdallah, Mujahid Shaykh, Hajj, the Director.
USAMA BIN LADEN IS WANTED IN CONNECTION WITH THE AUGUST 7, 1998, BOMBINGS OF THE UNITED STATES EMBASSIES IN DAR ES SALAAM, TANZANIA, AND NAIROBI, KENYA. THESE ATTACKS KILLED OVER 200 PEOPLE. IN ADDITION, BIN LADEN IS A SUSPECT IN OTHER TERRORIST ATTACKS THROUGHOUT THE WORLD.
US Security Advisory System
The Nation requires a Homeland Security Advisory System to provide a comprehensive and effective means to disseminate information regarding the risk of terrorist acts to Federal, State, and local authorities and to the American people.
Such a system would provide warnings in the form of a set of graduated "Threat Conditions" that would increase as the risk of the threat increases. At each Threat Condition, Federal departments and agencies would implement a corresponding set of "Protective Measures" to further reduce vulnerability or increase response capability during a period of heightened alert.
This system is intended to create a common vocabulary, context, and structure for an ongoing national discussion about the nature of the threats that confront the homeland and the appropriate measures that should be taken in response. It seeks to inform and facilitate decisions appropriate to different levels of government and to private citizens at home and at work.
The Homeland Security Advisory System shall be binding on the executive branch and suggested, although voluntary, to other levels of government and the private sector. There are five Threat Conditions, each identified by a description and corresponding color. From lowest to highest, the levels and colors are:
Low = Green;
Guarded = Blue;
Elevated = Yellow;
High = Orange;
Severe = Red.
The higher the Threat Condition, the greater the risk of a terrorist attack. Risk includes both the probability of an attack occurring and its potential gravity.
Threat Conditions shall be assigned by the Attorney General in consultation with the Assistant to the President for Homeland Security. Threat Conditions may be assigned for the entire Nation, or they may be set for a particular geographic area or industrial sector.
Contact Us:

This information is important to the world. War Criminals and their War Criminal Governments will be brought to Justice.

The use of any material on this site is free to use, copy and to email to other readers. The use of any material which is copyrighted should be cleared through those people or organizations posting the copyrights.

This is a not-for-profit site; and represents no offices of the US Government or has any affiliation with any Organization or Group. All materials on this site are reproduced under the Fair Use Rules of the International Copyright Laws; as an educational venue only. Many thanks go out to our friends in harms way tonight.
We are currently seeking funding for the maintenance of this website and other works in historical areas of interest.
Bob Price
Webmaster
Bob Price is an Independent Journalist who has written extensively on historical, current and world affairs since 1977. A former member of the Army Security Agency; he's served in several paid editorial positions.
Price has been awarded on many levels; including The Tommy Bryant Memorial Scholarship in Journalism and a CATO Institute 1979 Scholarship for Investigative Journalism and Political Economy; Summer Media Job Enrichment Program held at Northwestern University Evanston Illinois. Price is an awarded editor/writer and an accomplished illustrator, Photographer; and a volunteer Webmaster and Consultant for several independent web sites and personal conservative and historical projects.
Elevated
A Significant Risk of Terrorist Attack

The United States
is currently under:
Condition Yellow